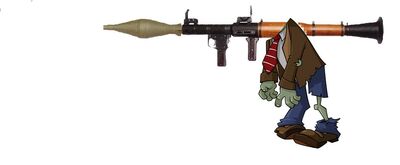 RPG-7 Zombie

Shoots a rocket launcher that very dangerous. (Created by MeLoNpunCHer40)

Type

zombie

Damage

massive

Toughness

medium

Move Speed

slow

Special

kills all plants in 3x3 area
RPG-7 Zombie is a zombie with an RPG-7 head. It is so heavy so he moves very slowly. but the damage is very high. its damage is 1 instant kill, but shoots very slowly. it takes 10 seconds to shoot again.
Use any plants that can kill him quickly, like explosives, snipers, etc.
Ad blocker interference detected!
Wikia is a free-to-use site that makes money from advertising. We have a modified experience for viewers using ad blockers

Wikia is not accessible if you've made further modifications. Remove the custom ad blocker rule(s) and the page will load as expected.