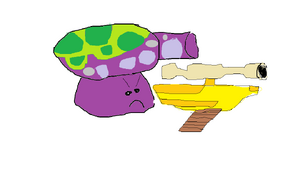 Cheytac-fume is a fume-shroom with a Cheytac.It uses the Cheytac to damage land and air enemies.
Cheytac-fume

Created by CrazyPingu54

Type:

Mushroom

Damage:

5 Normal damage per shot,

Attacks land:

Yes

Attacks air:

No

Cost:

250 Sun

Recharge:

Fast

Special:

Has high damage but shoots very slow

Headwear:

Military hat
Cheytac-fume's Almanac entry
Edit
Cheytac-fume damage land and air enemies by releasing fumes and sniper bullets.
Cheytac-fume's life became hard since he join the military in 1998."Life is hard being a soldier"says Cheytac-fume sadly.Although Cheytac-fume's life is hard,Cheytac-fume tries his best to keep his parents safe and being safe during war.
Ad blocker interference detected!
Wikia is a free-to-use site that makes money from advertising. We have a modified experience for viewers using ad blockers

Wikia is not accessible if you've made further modifications. Remove the custom ad blocker rule(s) and the page will load as expected.